Scheduled Shredding
Organizations are legally responsible for their customers' personal information. At GREEN MACHINE SHREDDING, we make it easy to stay compliant with our secure collection containers. You can rest assured knowing your discarded documents remain safe in our high security units. Our regular scheduled shredding service is an affordable solution for any size office.
GREEN MACHINE SHREDDING offers a wide variety of secure collection containers for all office environments. Whether you are a large capacity office or small home office we can customize a shredding service and schedule that is customized to your needs. We provide secure collection consoles, secure deskside collection containers and high security shred carts. Our flexible service plans allow you to choose a weekly, bi-weekly or monthly service. A member of our service team collects your confidential material and shreds your documents on-site in our mobile shredding truck. Once your service call is complete, you will be provided with a "Certificate of Destruction." Your shredded documents are then 100% recycled at Cascades Recovery.
Our customer care team is ready to arrange a service plan suited to your office needs. Call Today!
EXECUTIVE CONSOLE
Designed to blend into any office environment
Anti-phishing paper deflector ensures no hands can access documents
Self closing lock ensures documents remain secure at all times
Equipped with a rigid insert or All-in-One console bag
Dimensions & Capacity
Dimensions H x W X D: 36" x 15.75" x 20"
Capacity: 90-100lbs
ShredVANTAGE
FULL PLASTIC CONSTRUCTION FOR MAXIMUM DURABILITY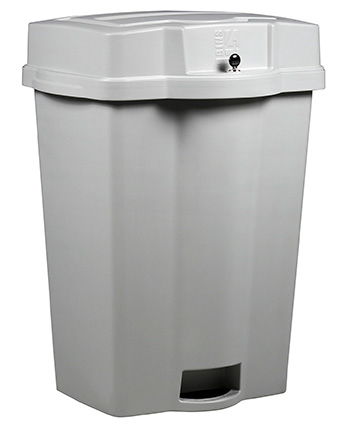 Same capacity as the Executive Console
Resistant to liquids
Lightweight with slam lock
Dimensions & Capacity
Dimensions H x W x D: 29" x 21" x 17"
Capacity: 90-100lbs
COMPACT CONSOLE
Designed to fit right under your desk
Provides secure document disposal within arms reach
Anti-phishing paper deflector ensures no hands can access documents
Equipped with All-in-One Console Bag
Dimensions & Capacity
Dimensions H x W x D: 24" x 21" x 16"
Capacity: 45-50lbs
SHRED CART 65 GALLON HIGH SECURITY

High security HASP locking system
Lid opens from the top for large capacity retention
Reverse molded paper slot ensures no hands can access documents
Rolling cart with non-marking wheels - 3/4" axle for added strength
Dimensions & Capacity
Dimensions HxWxD: 43.25"x24.5"x27.5"
Capacity: 200-250lbs
SHRED CART
32 GALLON HIGH SECURITY
High Security HASP Locking System
Compact, slim design ideal for all office environments
Lid opens from the top with quick disposal of sensitive documents
Dimensions & Capacity
Dimensions H x W x D: 38" x 19.5" x 21.5"
Capacity: 125lbs
SHRED CART
95 GALLON HIGH SECURITY
High Security HASP Locking System
Large capacity retention
Lid opens from the top with quick disposal of sensitive documents
Dimensions & Capacity
Dimensions H x W x D: 44" X 25" X 34"
Capacity: 300lbs
SHREDINATOR 30" SECURE DESKSIDE COLLECTION CONTAINER

Innovative & slim design
Perfect for smaller workstations
High density paper stacking
Dimensions & Capacity
Dimensions HxWxD: 30"x11"x20"
Capacity: 70lbs